I broke down today and decorated for Fall. Yes It's true and I couldn't deny it any longer, since the leaves are now changing colors outside. Winter will be here soon so I better decorate to keep me sane. Here is my mantel. I made the shutters from 97 cent wood from Lowes. The tin signs are from a thrift store they were so ugly had some horrific picture on them so I painted checkers on them and heavly distressed them. I went outside and got some wheat and tied twine arount them. I love pinecones and use them in decorating from fall all thought the winter. Painted some fake pumpkins white and there you have it.
You can make art out of anything, like leaves with burlap in a frame. Simple andt cute for the season. Apples are also cute this time of year, we even have a apple tree near by.
Today me and my son went out and cut sticks, lots of sticks. I think I got these fake acorns at Walmart last year for like 3$.
I got this cute FREE Autumn printable at
http://www.deallillie.com/
go check out her blog it is awesome. Put it in a frame and tada, fall art.
I hope you all enjoy the wonderful fall weather. Make sure to look arouns at the beautiful colors.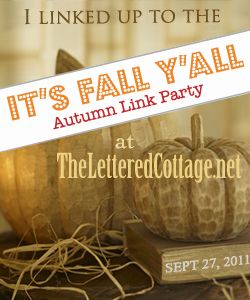 Happy Autumn all.
Thanks for stopping by.
Lindsay